BACK TO BLOG
Trim Time Off Incident Resolution with Context and Shortcuts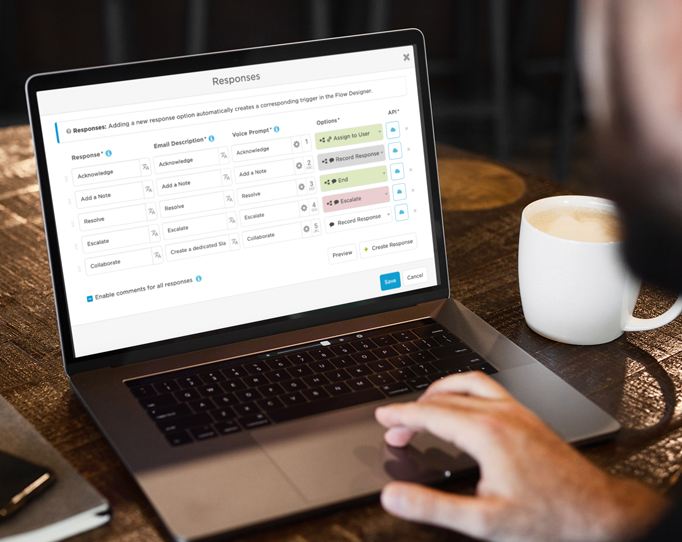 Time is the most precious resource we have – and when an incident occurs, every second counts. As application or infrastructure support specialists, we feel the brunt of working through critical IT problems that impact people at scale. So we've introduced some new incident resolution features that I'm going to walk through in this article.
xMatters helps solve urgent problems quickly by combining integrations in your existing toolchains with automation. With some new features, we can talk about major incident resolution doing some things that you couldn't before.
Scenario 1: Alert Context
You are on-call for your company's platform-as-a-service software, responsible for millions of dollars of transactions per day. You support development and operations teams to triage and fix a wide range of complex issues in production environments on a daily (and sometimes nightly) basis. This week you stepped in to cover for someone on the Mobile Apps team. Now it's early in the morning and you've been woken up to a notification on your phone about a major incident.
You open the notification on your phone. As someone who wears many hats, you don't know which of your many roles you're being notified for. You don't know if you're being notified as your usual role on the operations team, or as part of the Mobile Apps team. Or do you?
Using the new Alert Context feature, you can see you've been notified as a member of the Mobile Apps team, saving time as you start digging into the app logs before anything else.
Scenario 2: Duplicate Event
As you dig through the logs, you get an alert from your Dynatrace integration showing that one of your Rabbit queues is getting full and pretty soon messages are going to start dropping. This queue has degraded several times in just the past few weeks, and you remember working with an extremely knowledgeable colleague, a networking subject matter expert. She isn't part of the Mobile Apps team, but she was involved in the original deployment, so you send it to both your support team and the SME so all the right people can immediately join a bridge.
In the past, if you were not near your desktop or laptop, you would have to create a new event, fill out all the details, add all the right recipients, and make sure nothing gets missed – all time-consuming activities.
Now, it's just a few taps in your mobile app. When you open the details of an event on your phone, you'll see a new option to Duplicate Event under the Manage menu*. This allows you to quickly copy over the details from the existing event and save you the time of recreating or customizing a new event from scratch. Simply update the recipients to include your SME, and you've covered your communication to stakeholders, executives and anyone else you think needs to be kept aware of the impacting issue.
Now that the new notification has gone out, you can tap and hold the push notification to see your response options, such as assigning the event to yourself, creating a Slack or MS Teams chat room, starting a conference bridge, or escalating the event to someone else with the touch of a button, for example**. In this case you make the decision to get your team on a call immediately, so you hit "Join Conference Bridge." Confirm your phone number, and you're on the bridge and already focused on solving the problem at hand in seconds as a team.
* available for iOS only as of Hogan's Alley
** specific responses and actions are defined in Form Designer.
These are just a small sampling of features new to xMatters in the Hogan's Alley release. Be sure to check out our Release Overview for the full list of what's new to help you save time and solve major incident problems faster.
Try xMatters Free