Evaluating PagerDuty Alternatives
In today's digitized world, customers expect access to online products and services 24 hours a day, 7 days a week. If they experience slow response or loading times or any interruptions at all, they may use social media to complain, or simply take their business to a competitor. To keep customers happy, you must resolve problems right away.
PagerDuty is one of the most popular incident management and response tools on the market, and with their catchy name and product innovations, it's easy to see why. But, they're not a one-size-fits-all solution, and without evaluating the alternatives you could sign up for an ill-fitting solution to your incident needs.
PagerDuty alternatives range from Splunk On-Call, and Datadog Incident Management, to Atlassian Opsgenie, and xMatters. If you're investing in your first incident management software, or are ready for a change, make sure to read this article first.
PagerDuty
Before looking at PagerDuty alternatives, let's explore its features.
PagerDuty offers several on-call management capabilities including live call routing, self-serve schedule management, automated escalations, and more. These features allow teams to distribute on-call responsibilities evenly while ensuring maximum coverage. PagerDuty also includes adaptive learning algorithms to remedy incidents automatically. Runbooks use machine learning to filter out events that don't need a response, identify actions that resolve similar incidents, and inform those involved with those resolutions.
You can use pre-built queries to answer questions about incident activity, response turnaround time, and business impact. This operational analytics dashboard provides information about team performance and service health. Service recommendations suggest steps to reduce noise and help avoid employee fatigue.
Although PagerDuty is good at what it does, many DevOps and SRE teams need extra features. Extras for PagerDuty come at a cost, and it can be easy to quickly overspend in add-on features to have PagerDuty performing the way you need it to.
Splunk On-Call
When VictorOps changed its name to Splunk On-Call, the change came with product updates enabling you to effectively manage on-call teams. This PagerDuty alternative delivers incident alerts to the correct people quickly, reducing turnaround time for resolution.
Splunk On-Call offers an easy-to-use interface that allows your responders to swap on-call shifts with other team members via one-click handoffs, accessible from both mobile devices and the web. Webhooks for HTTP callbacks enable you to automatically update your applications, such as a status page, or integrate incidents with your service dashboard.
One of Splunk On-Call's most notable features is its intuitive mobile app. It offers a holistic picture of the incident context and relevant incident metadata — including Runbooks, graphs, and deep links,  — so teams can get started on vital remediation work right away.   
Although PagerDuty has a mobile application as well, it lacks some important functions. With both products supporting chat integrations, only Splunk On-Call offers bi-directional chat, including native, in-app chat. This allows teams to collaborate in real-time without switching between multiple apps. 
On the reporting side, both Splunk On-Call and PagerDuty offer reports to the first few stages of the incident lifecycle, including MTTA/MTTR and incident frequency reporting. You can also perform post-incident reviews with both platforms, each leveraging a curated timeline to facilitate retrospectives for key learnings. 
Splunk On-Call's pricing begins with a starter tier limited to 10 users, while growth and enterprise tiers allow for unlimited users.
Datadog Incident Management
Datadog launched its Incident Management product in August 2020. This new product streamlines on-call responses for DevOps teams by bringing alerting data, documentation, and collaboration together in a single location. Teams can automatically detect, triage, and resolve incidents directly in Datadog while consulting monitoring data from across the platform.
For post-incident reviews, Datadog offers PostMortem Notebooks that automatically generate postmortems with incident data or export data to the tool of your choice. You can also include graphs from any data source and scope them to the exact time of impact.
With more than 450 built-in turn-key integrations, Datadog has an advantage over PagerDuty. Datadog's integrations enable you to view all your systems, apps, and services in one place and aggregate metrics and events across the full DevOps stack. It is well-suited for organizations of all sizes and is best suited for developers, IT operations teams, security engineers, and business users.
Atlassian Opsgenie
Atlassian Opsgenie labels itself as an on-call and alert management system. It's one of the many products under Atlassian's umbrella, which includes tools like Jira and Trello. Opsgenie shares a similar user interface and identity management with other Atlassian products, enabling easy setup, user management, and navigation. 
Routing rules for on-call management is a key feature that sets Opsgenie apart from other incident management tools. Routing rules provide the flexibility to notify a team using different escalation rules, or on-call schedules, for different alerts, at different times.
Opsgenie's integration with chat applications such as Slack and Microsoft Teams provides communication and collaboration. In addition to incoming call routing, tracking analytics, and the use of an auto-attendant, you can connect local phone numbers in more than 35 countries. Opsgenie works with your on-premises, hybrid, or cloud-based environment. PagerDuty, in contrast, labels itself as a real-time operations solution. It's not available as a self-hosted solution for on-premise environments, nor is it part of a larger corporation with multiple tools in the market.

Opsgenie caters to small and medium-sized businesses up to enterprise organizations (with a pricing tier to match). It's free for up to five users, and large teams get a discounted rate.
ServiceNow Notify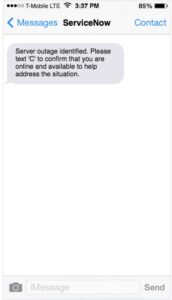 ServiceNow Notify is an add-on for the ServiceNow platform that provides SMS and voice channel communications. Your applications can start and manage communications and use them as interactive voice response-like (IVR-like) systems. Call management uses the Twilio Direct driver APIs, enabling you to start and manage conference calls, SMS messages, and phone calls.
Numbers and number groups in ServiceNow Notify enable you to group phone numbers and share workflows across grouped numbers. You can configure conference providers or phone numbers as choices for initiating conference calls, and Notify supports multiple languages for text-to-speech applications.
ServiceNow Notify greatly differs from PagerDuty and other alternatives, in that it's not a stand-alone solution — it's an add-on to the larger ServiceNow solution. While that may be a benefit for ServiceNow users who want to keep their technology stack small, it lacks the significant benefits of having a separate tool. 
While ServiceNow Notify does act as a PagerDuty competitor, it's important to note that ServiceNow integrates with PagerDuty, xMatters, and other competing tools. This indicates that while Notify is an option, most customers prefer to use a stand-alone tool for their incident management needs. 
Resolver
Resolver is an incident management tool featured as part of their corporate security offering, providing an integrated security solution for specific industries that would need such a large-scale product. Because of Resolver's scale, the solution can identify broad trends, find commonalities between incident root causes, and improve overall data efficiency.

Incident forms in Resolver enable users to report incidents in data entry forms tailored to each user type. There is a dynamic, automated triage process for all incidents and automated workflows escalate the information to the proper people through task assignments and notifications. Investigations management enables you to find links between investigations and incidents by tracking persons of interest tied to open investigations.
AI Intelligent Triage is another unique feature of Resolver, which uses machine learning to connect details of incidents to help resolvers understand the full picture quickly. After receiving an incident report, Intelligent Triage identifies people, organizations, locations, dates, and times. This can be helpful both during the resolution process and in an incident post-mortem.
Given the scale of the Resolver incident management solution, it's likely best suited for large enterprises looking for a full corporate security solution, not necessarily an incident management tool. A small or medium business likely doesn't require a full corporate solution given the incident volume and complexity they are faced with.

Unlike PagerDuty and other incident management tools, Resolver focuses very little on identifying incidents before they occur. While employee-led incident identification forms are beneficial, it does mean that an incident would need to become public-facing before someone could log it and the solution would begin to work.
FireHydrant
FireHydrant is an incident management tool that markets itself as the connective tissue between all the tools you already use during incidents. Its solution stack is similar to other incident management tools, with incident management, process automation, analytics, and integrations as some of their key features. But unlike some other tools, FireHydrant emphasizes its resolution frameworks as a key feature that helps manage and resolve incidents quickly.

Users can create and track accurate timelines and build retrospectives on these timelines, creating action items and follow-ups. A repository of the complex relationships between apps, teams, and cloud infrastructure creates a service catalog, providing a centralized view of your infrastructure. This is a unique approach that sets FireHydrant apart from PagerDuty.
FireHydrant also tracks deployments, creating a timeline of how a single change moved throughout your system. Automated and customizable public and authenticated status pages keep customers informed when incidents strike. Analytics dashboards give you a complete view of your incidents along with their metrics.
FireHydrant offers a tiered pricing model, starting at $20 per user with limited functionality to enterprise plans. Notably, integrations are pricing-plan dependant, and businesses in the starter plan are stuck with very limited usable integrations.
xMatters
Last but not least, xMatters — hey, that's us! xMatters is a service reliability platform that helps DevOps, SREs, and operations teams automate workflows, ensure infrastructure and applications are always working, and rapidly deliver products at scale.

One of our most popular features is Flow Designer, a drag-and-drop workflow builder that lets users build complex workflows without needing to write a single line of code. Currently, PagerDuty doesn't have such capabilities. Even after a recent company acquisition of a similar tool, PagerDuty still lacks Flow Designer's ease of use.
xMatters uses toolchains to relay information between systems that span on-premises, private cloud, and public cloud systems. Built-in integrations connect monitoring and issue-tracking tools, and the Integration Builder uses open APIs to connect modern and legacy systems.
Custom actions enable you to connect to other systems. Moving beyond simple "accept" or "reject" actions, you can create automated actions such as "Post to Slack" or "Create Jira Issue."
Smart notifications tailor incident alerts, so responders receive technical details while business stakeholders receive status and impact updates. Context-based routing enables stakeholders to opt-in to information and prioritizes alerts according to their severity and impact. Unlike PagerDuty, xMatters supports multilingual messaging, so nothing gets lost in translation.
xMatters provides a real-time view of what's happening in your systems and allows you to replay and reexamine past incidents to learn what worked and what didn't. You can measure team performance with statistics on response engagement, time to respond, response value, and conference call assessment. You can immediately see information about key service level indicators. Analytics enable you to assess individual and team-wide contributions to each incident.
xMatters caters to teams large and small, with capabilities suited for small organizations or growing enterprises.
Conclusion
Remember, there is much more to all these products than what we covered in this brief overview. PagerDuty alternatives range from a manual service that integrates with an existing incident management solution, like ServiceNow's Notify, to a complete incident management solution like xMatters. No product can solve every problem or use case. It's up to you to weigh each solution's benefits to determine the best fit for your organization.
When deciding which PagerDuty alternative is right for you, you can always try an incident management solution with a free trial or free tier, such as xMatters. The great thing about trying xMatters for free is you can explore and test the product, then switch to another pricing plan as your team grows. With that information at hand, you should be equipped to make an informed buying decision that you won't regret.