Got a Major Incident Blowup? Minimize the Blast Radius
Data breaches, malware attacks, system errors, digital service outages—no wonder major incidents are a leading cause of four-letter words. xMatters delivers the visibility, automation, and orchestration you need to ensure your MIM processes work as well in practice as they do on paper.
GET STARTED WITH THE MIM GUIDE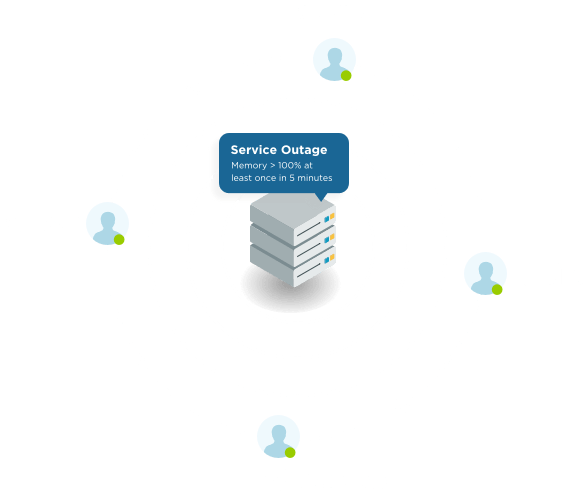 TIRED OF THE CHAOS? ORCHESTRATE RESOLUTION
When a major incident hits, the complexity can be overwhelming. You're under pressure to understand the root cause, connect resolvers across teams, facilitate collaboration, align stakeholders—and ultimately fix a complex problem. And, you're painfully aware that every minute of digital service downtime is expensive for your business. Our enterprise-grade, industry-leading Digital Service Availability platform helps you isolate critical insights, tools, and team members while optimizing remediation steps required for fast major incident resolution.
AUTOMATE YOUR WORKFLOWS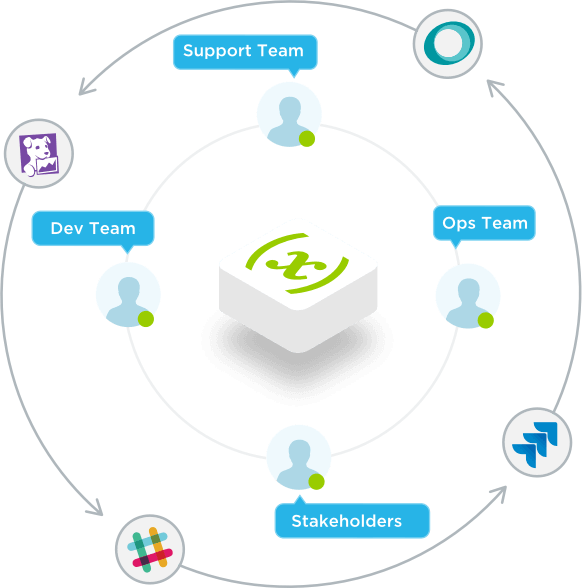 Automated Triage
Anticipate major incidents by defining severity and event type
Toolchain-Driven Workflow
Coordinate critical data flow between systems and resource engagement for faster resolution times
Structured Runbooks
Leave nothing to chance—let xMatters guide users through incident resolution, from informing stakeholders through spinning up collaborative tools like conference bridges and chat rooms
DITCH CHAOS, DEMAND COLLABORATION
When your e-commerce site goes down under peak load, how do you coordinate subject matter experts across application, incident management, and network teams to bring it back up? xMatters automatically locates and notifies the on-call resources you need to solve any major incident.
GO BEYOND INCIDENT MANAGEMENT
Subject Matter Expertise
Target individuals or groups with specific skill sets, locations, and certifications. Need fifteen Australia-based infrastructure engineers skilled in Python? No problem.
On-Call Management
Shifts, rotations, and escalations work together to ensure that available on-call team members respond to incidents. Improve response metrics by contacting people on their preferred devices and channels.
Stakeholder Alignment
Automatically update executives on major incident status in business language so resolvers can stay focused on fixing.
BURN THROUGH THE FOG AND TAKE THE RIGHT ACTION
Everything you need to resolve a major incident is in the output of your systems and the minds of your teams. xMatters weaponizes that knowledge to get your organization back up and running.
Situational Context




Isolated data can be misleading, so xMatters aggregates data from multiple tools ranging from infrastructure monitoring to log management to produce a complete picture.

Actionable Notifications




One click turns monitoring alerts into a service desk ticket or a tracked issue to drive problems to resolution.

ChatOps




Automatically spin up chat rooms with situational context, empowering team members to join forces and collaborate.

Conference Bridging




Rally team members and enable them to join a conference call with a single click.
START WITH SMART NOTIFICATIONS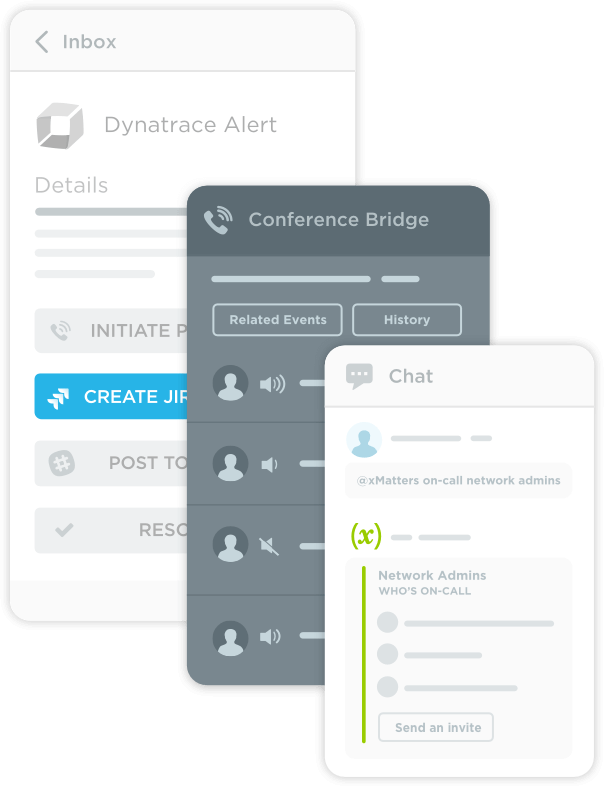 STOP DROWNING RESOLVERS IN EVENT FLOODS
When multiple systems report the same problem and blow up with alerts, it's tough for resolvers to stay focused. xMatters gives you sophisticated tools to cut through the notification noise and keep your people on-task.
Flood Control




Suppress further notifications after team members have responded to a major incident alert so they can stay focused on fixing the issue.

Thresholds




Limit the number of alerts your people receive during a given timeframe to halt notifications and minimize unnecessary noise.

Device Management




Block specific devices from event floods so they can be used to solve problems—without being clogged with thousands of alerts.
BREAK AWAY FROM THE NOISE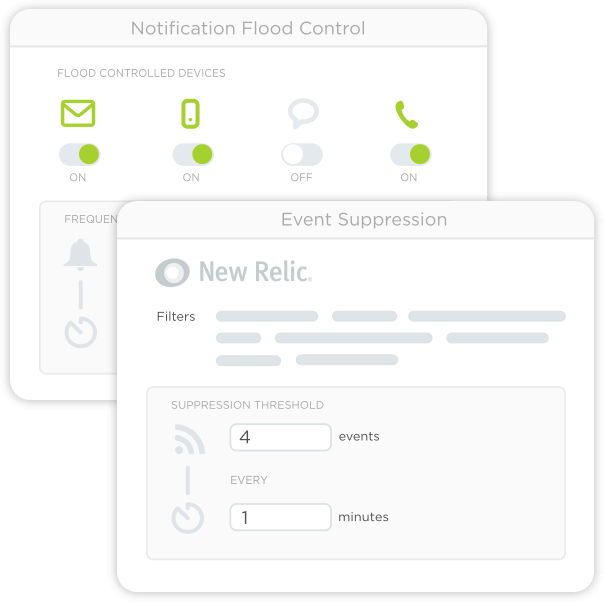 SEEK ENLIGHTENMENT... OR AT LEAST CONTINUOUS IMPROVEMENT
Once you've resolved a major incident, it's OK to take a moment to breathe a sigh of relief (and perhaps sip a beverage). But then it's time to learn from what happened. xMatters gives you the insights you need to optimize your response to major incidents—or even to prevent the next one.
IMPLEMENT AUTOMATION BEST PRACTICES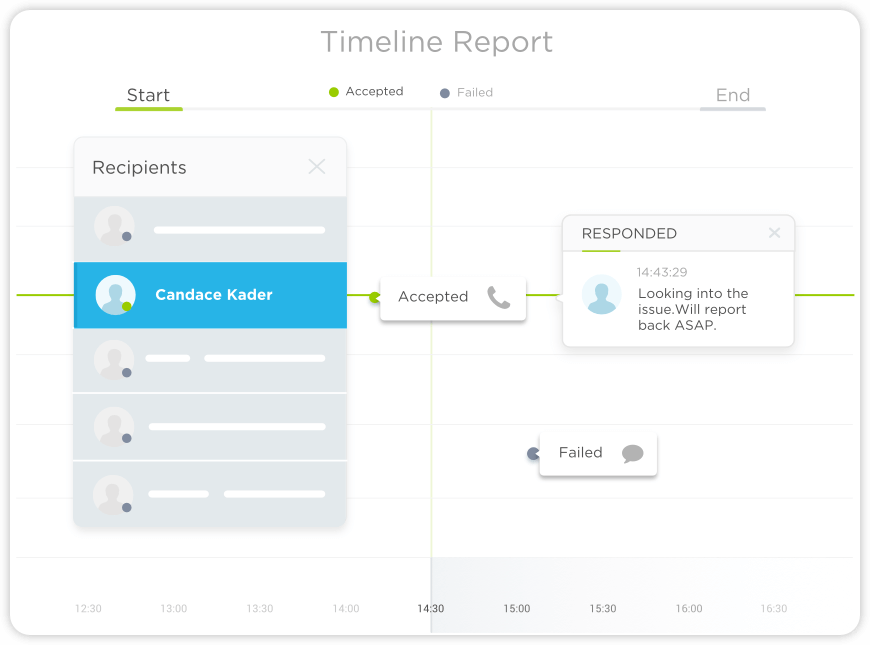 Timeline Optimization
Analyze how your organization resolved any major incident under a second-by-second microscope, validating your remediation steps and timing against best practices
Communication Efficiency
Confirm that high-priority messages are reaching essential team members and stakeholders so that nobody's left in the dark next time
Team Contribution
Assess a team member's positive or negative impact towards resolving major incidents, and then work with low performers to drive better results
xMatters has brought in massive efficiency gains [to our] Major Incident Management.
Try xMatters Free Right Now
Sign up now and you'll get 14 days of unlimited access. After the trial you can 'team size' your version of xMatters for as long as you want.
Start Trial