Evolve Your IT Service Management With A Connected Ecosystem
The role of IT Services is blurring. As organizations embrace continuous delivery principles and fail-fast mindsets, it can be difficult to determine whether something's broken. Responsibility for supporting digital services is distributed between IT and development teams, often with overlapping work. An increasing volume of applications are trying to tell you things about incidents and it's harder than ever to separate insights from noise. With the xMatters Digital Service Availability platform, your business can seamlessly evolve with this changing world.
WATCH TOOLCHAIN MAGIC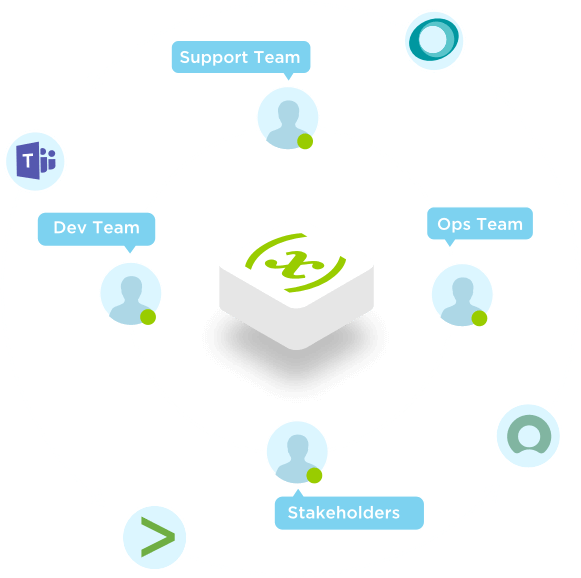 TURN MONITORING INSIGHTS INTO RESOLUTION ACTIONS
When your APM software detects an important problem like a server failure, it's essential to notify your incident management team to ensure the issue gets fixed. xMatters lets you set triggers to prioritize important issues accordingly. Convert monitoring alerts into service desk tickets with a click of a button, while automatically retaining the information around the alert. This structured and guided workflow around an issue guarantees it will reach the resolution finish line.
GO WAY BEYOND IT ALERTING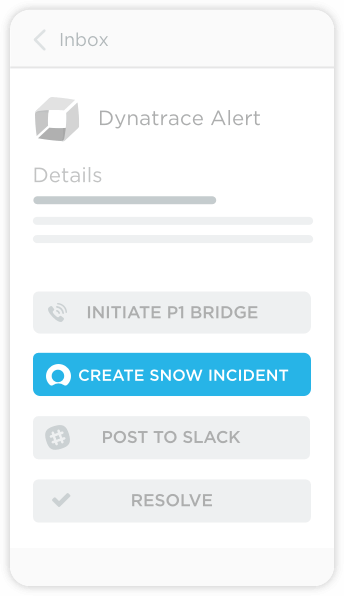 Automated Routing
Set priority thresholds and notify relevant team members about issues so they can kick off the resolution process
Actionable Responses
Whether you need to start a conference bridge or create a service desk ticket, custom actions let you take the necessary steps to resolve an important issue
Incident Correlation
Focus on real problems rather than redundant signals by grouping related alerts into a single managed incident
IT'S SIMPLE: ORCHESTRATED RESOLUTION SOLVES COMPLEX ISSUES FAST
Applications are rapidly replacing people as problem detectors, causing a radical transformation in incident management. Every touchpoint in a resolution process can be automated, streamlined, and archived. And, subject matter expertise lives across multiple departments. Sound daunting? With xMatters, you can actually exploit this evolving reality to connect people, data, and tools to accelerate resolution.
OPTIMIZE IT OPS PROCESSES
Multi-Step Workflow
Optimize complex processes that require collaboration from multiple teams and data from numerous systems
Flood Control
Shield resolvers from receiving large volumes of unnecessary notifications so they can focus on getting stuff done
Smart Notifications
Gain complete situational awareness and take resolution actions directly from notifications
COLLABORATE AT A MOMENT'S NOTICE TO ACCELERATE RESOLUTION
Sometimes you need more brain power to address an incident... and sometimes you just need some moral support. xMatters helps you get multiple team members to swarm an issue, starting a conversation at a moment's notice within a ChatOps channel or a conference call. And, if you're on the move when a problem strikes, the xMatters mobile app is your in-pocket incident command center.
ChatOps




Start a channel that includes an incident's complete context. Once an incident is resolved, the ChatOps conversation with resolution insights is captured in the service desk ticket.

Conference Bridge




Rally team members into a conference call when anything less than a live voice conversation won't do.

Mobility




Kick off resolution processes, escalate a notification into a support ticket, spin up a ChatOps channel, or start a conference bridge directly from the mobile app to address problems from anywhere.
EXPLORE CHATOPS INTEGRATIONS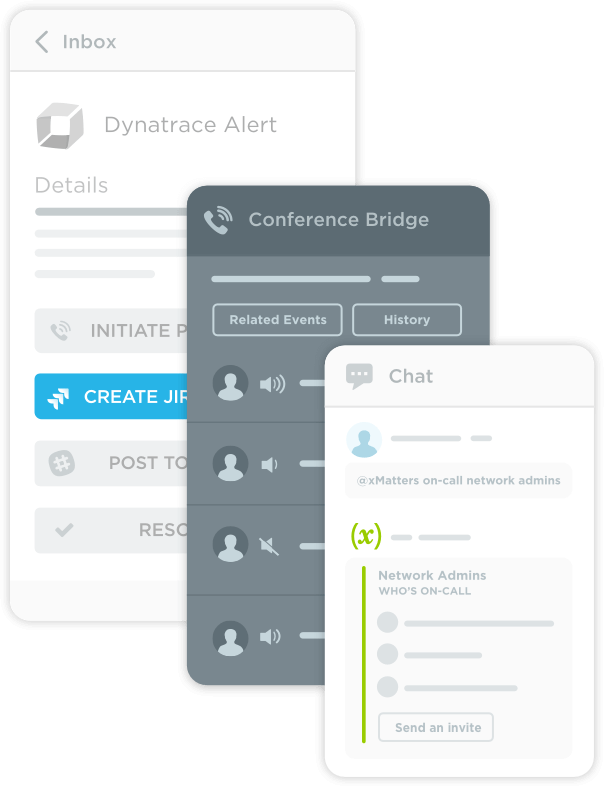 BUILD BRIDGES, NOT SILOS—ENGAGE SME'S ACROSS YOUR BUSINESS
Your customers demand your digital services to be available 24/7, so you need to develop a support coverage model that's always on, and that excels at finding the right resources for any situation. You know those infrastructure engineers that are so hard to track down? Let xMatters find them for you. Establish connections across departments and break down silos—because when customers are impacted, everyone is on the same team.
MASTER ON-CALL MANAGEMENT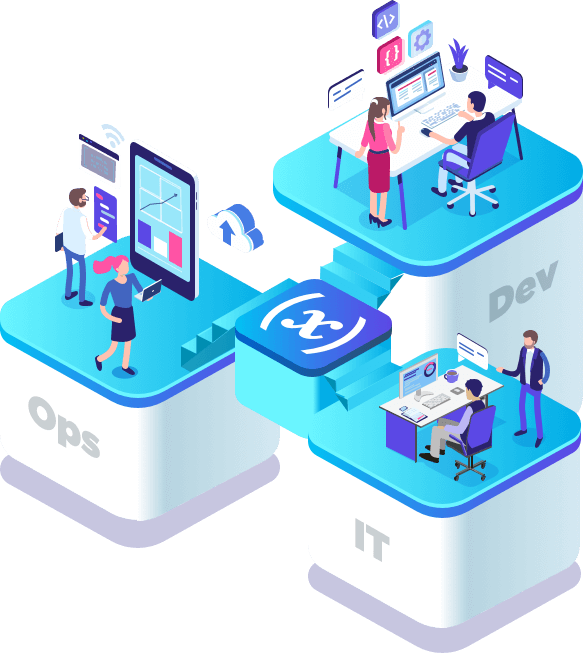 Expert Identification
Automatically find resolvers based on skill set, language, geography, certifications, and more, saving time when you need help fast
On-Call Scheduling
Ensure comprehensive coverage while spreading the workload burden. Manage schedules, escalations, and rotations with the ease of an intuitive interface and the scale to support even the largest enterprises
System Alignment
Bridge critical resolution processes to span multiple teams and tools. An issue in Jira and a ticket in ServiceNow can be connected with same problem, letting teams work the way they like to
AUTOMATIC STAKEHOLDER UPDATES LET RESOLVERS FOCUS ON FIXING
When your responders are under intense pressure to resolve [customer-impacting] incidents, they shouldn't be burdened with giving periodic updates to executives, customers, and other key stakeholders. xMatters automates communication on a need-to-know basis, with tailored messages that provide the appropriate level of technical depth and business impact based on a recipient's function.
AUTOMATE YOUR INCIDENT MANAGEMENT
Communication Designer
Design messages with customized levels of technical details and information around incident progress. Send updates in business language to executives while concurrently delivering messages to resolvers with technical details.
Subscriptions
Empower stakeholders to opt-in to receiving communications for incident types they care about. Send customer-facing incident updates to executives, and infrastructure. incident updates to network managers
Statuspage System Integration
Integrate with customer-facing systems such as Statuspage to send updates on incidents that directly impact service delivery
GAIN COMPLETE INCIDENT VISIBILITY TO IMPROVE TEAM PERFORMANCE
See a second-by-second picture of how an incident is progressing and make on-the-fly optimizing decisions if things need tweaking. Learn from the past by accessing every possible data point around the DNA of an incident, ranging from on-call schedules to team member contribution levels to KPIs.
DO MORE WITH ADVANCED ANALYTICS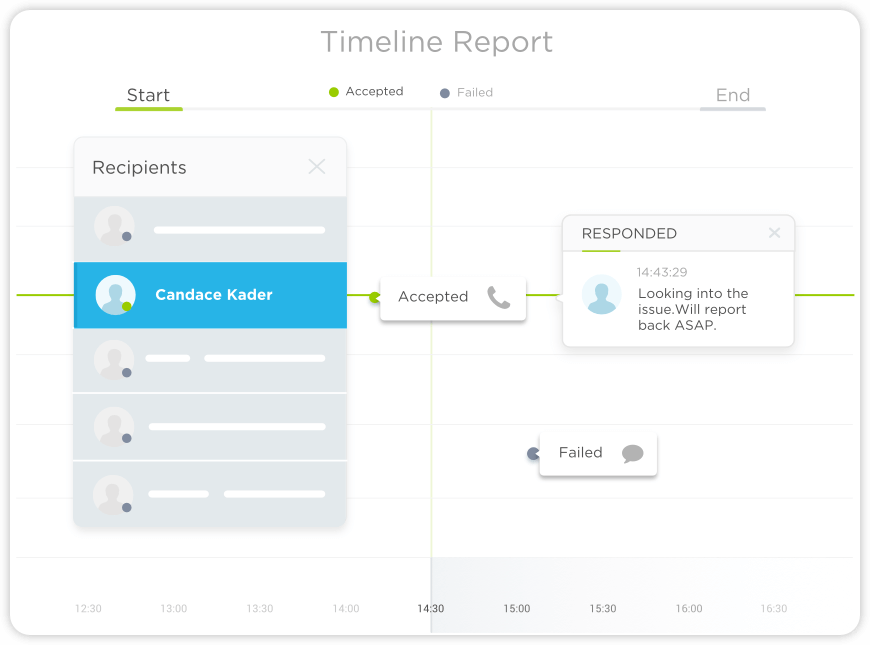 Timeline
View the progression of an incident from detection to resolution, assessing remediation strategy and adherence to KPIs
User & Group Performance
Gauge team members' levels of engagement, timeliness, and relative contribution to incident management
Integrated Reports
Use the service desk reporting engines you're already familiar with, and analyze incident management and collaboration data together to optimize the entire lifecycle
We integrated xMatters with ServiceNow to help improve our Incident Management Process. Our ability to escalate alerts and pull teams together quickly via xMatters means our system uptime remain consistently high.
Try xMatters Free Right Now
Sign up now and you'll get 14 days of unlimited access. After the trial you can 'team size' your version of xMatters for as long as you want.
Start Trial