How Adaptive Incident Management Gives You the Upper Hand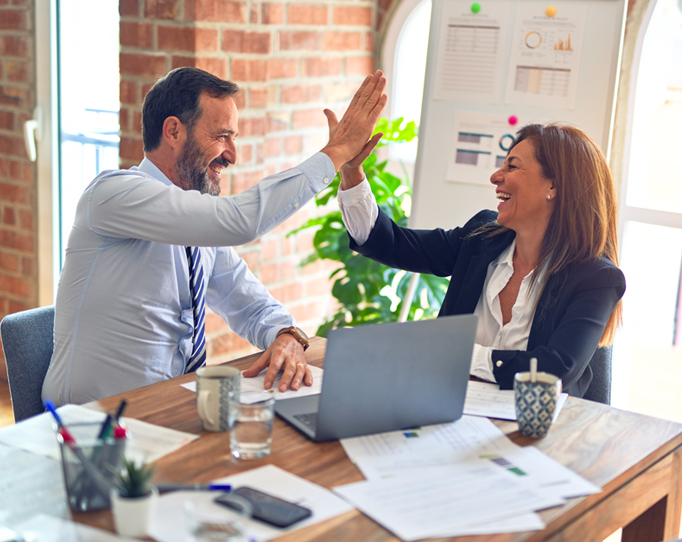 One of the great things about the TV detective Columbo was that he never made a hasty decision based on first impressions or appearances at a crime scene. It didn't matter how obvious it seemed to be who committed the crime (or how good the frame-up) was: Columbo always dug deeper into motives, opportunities, and methods to uncover who the guilty party was.
What does all this have to do with incident management and service reliability? Well, much like a crime scene to Columbo, an incident is often more than it appears at first glance. When an incident occurs, you probably don't know enough or have enough context to react immediately. In these circumstances, situational awareness is key because — much like crime scenes — not all incidents are the same. Since the complexity and severity of each incident can vary, tackling them is a bit more challenging since there is no one-size-fits-all approach you can take.
Incident management needs to be an adaptive process capable of meeting the unique needs of a situation: responding to and resolving incidents effectively.
When an issue arises, how does your team react?
In the xMatters State of Automation in Incident Management study, we wanted to understand how enterprises approach digital service issues. We surveyed and scored companies to see where they fell on our Incident Management Spectrum and whether they balanced the need to maintain service levels and continue innovation.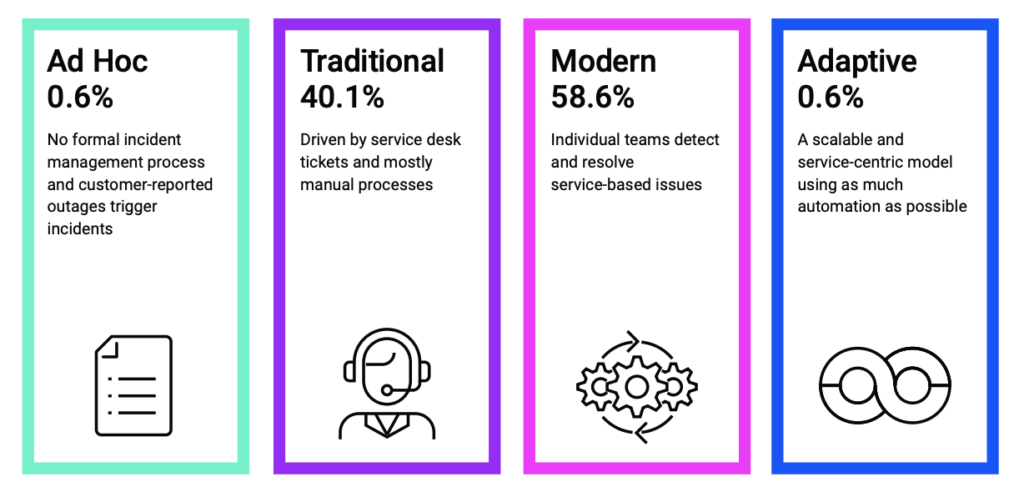 The study revealed that incident management needs a transformation. Most companies scored as traditional or modern, but few achieved a score of adaptive, the highest level of maturity. There are plenty of good reasons to strive for it, as the study found that the more evolved an enterprise is on the Incident Management Spectrum, the more likely they are to have:
Time to innovate

Visibility into problems before customers

Leadership support

Greater digital transformation budgets

Advanced tools and processes
So, in an era of substantial changes across the digital transformation spectrum, it's time we talk about adaptive incident management.
What is adaptive incident management?
Now more than ever, your team wants full visibility into how your digital services work. While incident management was once a well-defined (manual) process focusing primarily on service availability, it has evolved to accommodate DevOps practices with an added focus on service performance. That's why it's important to have an automated, scalable set of tools and practices that can help your team address, resolve, and learn from any incidents that arise in your infrastructure and systems as your enterprise grows.
Adaptive incident management puts your team in control of your digital systems because only you know your tools, teams, and processes best. With an adaptive strategy, your incident response systems are powered by your team and proactively automate work, enable collaboration, and give you in-depth analytics into your infrastructure in a way that fits your enterprise, not the other way around.
Moving from ad-hoc to adaptive with xMatters
xMatters' adaptive incident management solves the challenges of responding to digital service interruptions across different teams, cultures, and systems to deliver the most reliable customer experiences. Whether it's a small technical issue or an enterprise-wide outage, adaptive incident management delivers digital service resiliency by automating resolution, facilitating dynamic collaboration, and using data to inform and evolve processes.
With an adaptive strategy built into our DNA, xMatters puts each responder in their own virtual "situation room," allowing for dynamic collaboration with teams while using the processes and tools they know best. When an incident is in progress, you need flow, not friction between teams and tools. With xMatters, you can:
Automate

: Harness the power of human problem-solving and process automation for faster, more accurate resolution.

With manual coding, a start is no longer necessary. It's easier than ever to drag and drop steps into a 

workflow

to address a variety of situations across tools and teams—taking the heavy lifting out of resolving issues.

Collaborate

: W

hen big problems arise, having your teams work in silos will slow down the mean time to resolve (MTTR). xMatters allows your teams to bridge incident management processes through data insights across disparate tools for cohesive and

collaborative enterprise response

.

Use real-time views of incident status, resolvers, and timeline content; export incident details, including the timeline and key metrics, to support stakeholder communications. 

Analyze

:

Accelerate continuous improvements and service resilience through comprehensive incident data and advanced analytics. xMatters provides teams with post-incident times to keep a detailed record of what happened and when. Create and view postmortems to continuously improve services, systems, and processes: giving your team an edge when preventing future incidents. 
Use xMatters' adaptive incident management to future-proof your digital systems
As the DevOps landscape continues to change, your teams must keep up to continually delight your customers and achieve digital service reliability. xMatters can scale to fit your teams, tools, and processes while providing an adaptive approach to any service disruptions.