Black Friday 2020 E-commerce: What's on the Mind of Consumers and Tech Teams?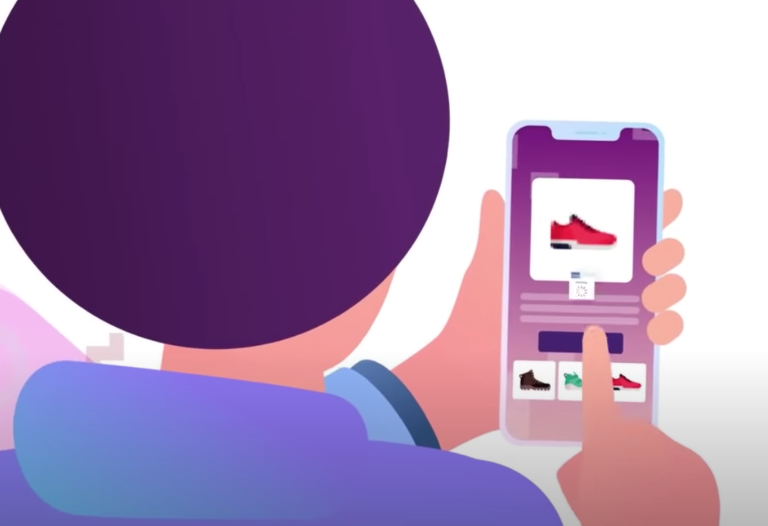 45.2% plan to shop online only on Black Friday
Black Friday and Cyber Monday are critical seasonal sales events for retailers and their customers. Preparations take place months in advance to ensure a smooth customer experience from website entrance to seamless checkout. Any snag in the online buying process brings neither retailers nor their customers any holiday cheer.
If you have ever delivered a less than optimal shopping experience during the critical holiday buildup, it sticks with you, often leaving a lasting impact on your brand and how you approach incidents. Legions of tech teams have frontline war stories about technical glitches when thousands of dollars were on the line. At AWS Reinvent 2018 Amazon CTO, Dr. Werner Vogels, shared his "worst day at Amazon" when a bug in the customer database took down all of Amazon for twelve hours back in the holiday season of 2004. Today, the architecture Amazon uses is based on changes instituted due to those stress-filled hours more than a decade ago. Black Friday and Cyber Monday 2020 are expected to generate especially high traffic. E commerce team preparedness may indicate whether this holiday season will be a boon or a bust for a fragile digital-dependent economy.
2020 Black Friday and Cyber Monday E-commerce Trends Study
To better understand what consumers and e-commerce teams are planning and expecting in this unusual year, xMatters conducted the 2020 Black Friday and Cyber Monday E-commerce Trends Study. This October we surveyed 300 U.S. consumers and 300 e-commerce technology professionals at online retail organizations of 1,000 employees or more. We uncovered trends that point to an unprecedented online shopping surge and how tolerant consumers will be with any delays in their online shopping experience. We also found some interesting intergenerational differences in consumer plans for holiday shopping this year between Gen Z (ages 18-23), millennials (ages 24-39) Gen X (ages 40-55) and baby boomers (age 55-73).
Here are some highlights from our research.
Consumers and Black Friday 2020
Online shopping surge 
We've all been doing a lot more online shopping these days. 79% of respondents said their online shopping has increased as a result of the pandemic. Since e-commerce offers convenience and protection from catching any nasty viruses of the human variety, 45.2% report they will shop exclusively online during Black Friday this year and almost half (48.4%) plan to do 51-100% of their holiday shopping during Black Friday and Cyber Monday.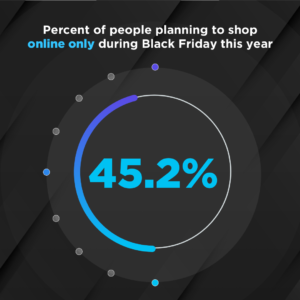 This aligns with expectations from many e-commerce technology professionals, 78.1% of whom expect an increase of at least 41% in online shopping during Black Friday and Cyber Monday 2020 compared to 2019.
Most baby boomers (53.9%) plan to shop online only, while the greatest number of Gen Z respondents (45.5%) are opting to shop in stores. The difference may reflect the older generation's concern with catching COVID-19.
Shoppers will have limited tolerance for delays

We've all heard about shoppers waiting in line for hours to get a deal. Some rush from the dinner table to the nearest big box store to digest their Thanksgiving meal while waiting for retailers' doors to open. It stands to reason that Black Friday shoppers who have been willing to wait for hours in line in the past have a modicum of patience. However, when it comes to Black Friday shopping online in 2020, not so much.
Many (43.2%) respondents planning to participate in online shopping during Black Friday and Cyber Monday said they won't wait more than five minutes for interruptions to their shopping experience. It is likely many in this category will wait far less.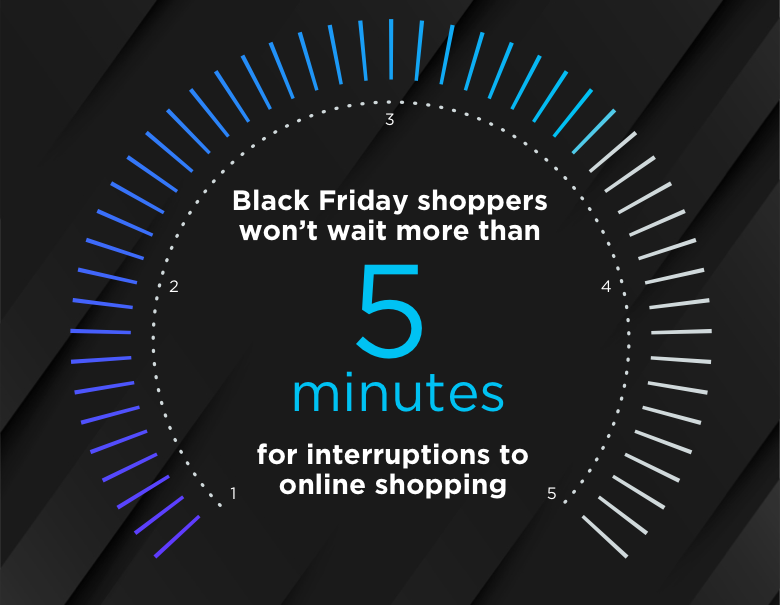 The top reasons people will leave a website during 2020 Black Friday/Cyber Monday shopping include: 
Security concerns 

(49.4%)

 

Slow app or website

(43.5%)

 

Website or app doesn't 

work pro

perly during checkout, 

i.e., 

tax calculations, etc. (35.5%)

 
Notably, baby boomers are 74% more concerned about security issues than Gen Z shoppers. Concerns about security are the number one reason baby boomer and Gen X respondents would leave a site. Whereas millennials and Gen Z shoppers are much more likely to bail on a shopping experience if a site is slower than expected.
Pricing, incentives, and loyalty keep shoppers around
Luckily for e-commerce retailers if visitors to their site do encounter a problem during Black Friday or Cyber Monday there are tactics that will bring them back, the most popular being: 
L

ow-cost

 

pricing (

71.6%

),

 

I

ncentives

 

(48.7%)

 

B

rand loyalty (41.3%)

 
Brand loyalty is much more important for Gen Z shoppers (59.1%) than baby boomers (27.7%).
Whether it's their limited purchasing power or opportunity to flaunt a great bargain, surprisingly almost a quarter of the stereotypically impatient Gen Z (22.7%) respondents will wait up to an hour to get the best deal compared to 10.6% of millennials, 5.3% of Gen Xers, and only 5% of baby boomers.  
This Black Friday/Cyber Monday expect people to do a lot more shopping online and have limited tolerance for hiccups in the buying experience. Yet, since budgets are tight, if the price is right, many are willing to return to get the best deal. 
E-commerce Professionals and Black Friday 2020
On the e-commerce side, we surveyed professionals from development, SRE, IT operations, and technical leads. Nearly all respondents (96.8%) believe their organization has sufficient tools, applications, and services to support the expected rise in digital service usage for the 2020 Black Friday and Cyber Monday shopping events. This confidence reigns despite the expected increase in 2020 traffic and known outages that have plagued tech teams in holiday seasons past. 
Faster software releases help e-commerce professionals meet demand
COVID-19 has been an accelerant to digital transformation for many industries, including retailers. The majority (81.8%) of e-commerce technology teams surveyed in the 2020 Black Friday and Cyber Monday E-commerce Trends Study said they delivered faster software releases to meet customer demand, far outpacing other actions taken, such as training and infrastructure changes.
Primary e-commerce and operations concerns for Black Friday and Cyber Monday
Going into Black Friday and Cyber Monday, protecting customer data and maintaining service availability are top-of-mind for e-Commerce professionals. This aligns well with the top triggers mentioned above that cause consumers to leave a site: security concerns and slow apps. E-commerce teams know their customers well and will likely be closely monitoring services for any sign of degradation. 
E-commerce teams rank the most critical Black Friday/Cyber Monday (and likely every day!) operations challenges as follows: 
Increased complexity in and around functionality of new systems or infrastructure (e.g., AI/ML, cloud, mobile, etc) 69.4%

 

Ensuring a positive customer experience (52.22%)

 

Increased difficulty in capacity planning (46.8%)

 

Manual work needed to resolve and report incidents (29.9%)

 

Siloed

 functions prohibiting collaboration (29.3%)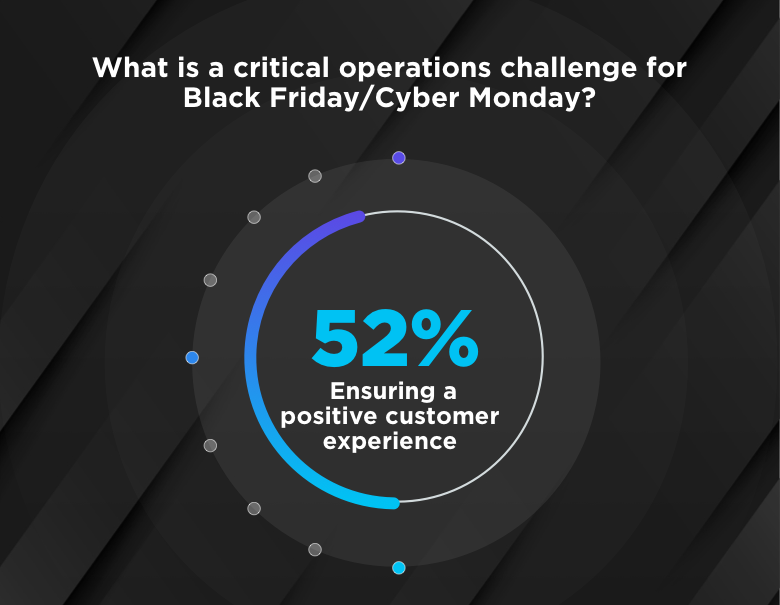 The manual work identified by technology teams is a recurring theme. In our recent State of Automation in Incident Management Report we found nearly three-quarters (72.3%) of technology professionals say at least half of their team's time is spent resolving incidents instead of releasing innovations to market.  
Cost of downtime on Black Friday and Cyber Monday
While there are many noted cases of how expensive downtime is for online retailers, reaching easily into the millions, e-commerce professionals estimate significant revenue impacts if a site or online shopping application goes down for 30 minutes or less on Black Friday or Cyber Monday. Over a quarter (27.1%) said that 30 minutes or less of downtime can cost $100,000 or more.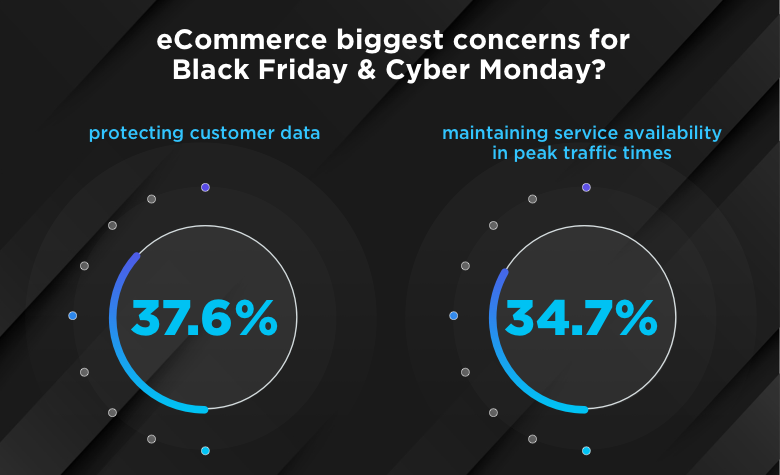 To prepare for the most anticipated shopping event of the year and to keep prospective customers from going elsewhere for their online shopping needs technology professionals are increasing security measures (24.5%); preparing customer incentives such as discounts or abandon cart promotions (19.4%); and developing a unique P1 plan (18.2%) to address incidents. 
We hope the post-holiday economic and technology news will be filled with record sales and limited reports of coronavirus outbreaks due to the amazing experiences e-commerce teams have engineered. The alternative is more bad news in an already harrowing year. 
Ready, set open the (virtual) doors to the store! 
As consumers gear up for unprecedented online shopping this Black Friday and Cyber Monday the e-commerce teams managing these experiences are confident in their ability to support them. They learned best practices and useful tips to prepare from past holiday shopping experiences and have already adjusted for an influx of traffic to their sites from the pandemic.  
Are you concerned about providing your customers with the best possible online shopping experience? xMatters works with some of the world's largest retailers to make sure their digital services stay available with automated incident response and management solutions. 
Try xMatters Free