My Story and How I Became an American Citizen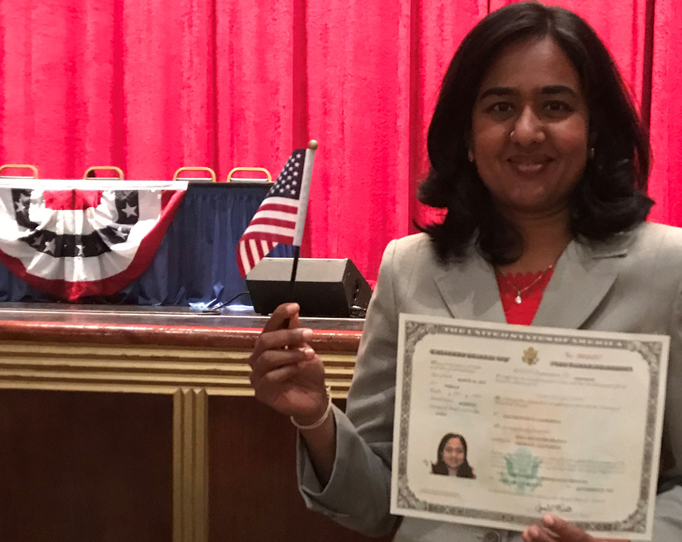 When Mala Balasubramanian left the comforts of her home in India almost 20 years ago, she didn't know what her future held. Life put several obstacles in front of her, both personal and professional, but she persevered. In 2017 she put an exclamation point on her journey when she became an American citizen. For Mala, how to become an American citizen came down to five critical elements: resilience, luck, adaptability, family, and gratitude.
I was headed to San Francisco in the Bay Area in January 2001 to join my husband, who had just started a new job as a software engineer after we got married in India. As I embarked on this new life in a new country, I had mixed feelings. Leaving my hometown of Chennai, Tamilnadu, India was very intimidating. On the other hand, I had completed a rigorous three-year academic certification in Chartered Accountancy and bachelor's in Commerce (United States equivalent BBA) and was eagerly looking forward to landing a job once I was settled in my new life.
Today I am a wife, a mom, a professional, and an American citizen. Along the way, I learned to overcome obstacles, be thankful for opportunities, and embrace different cultures. This makes living in the United States a humbling experience. Here are five critical elements that helped make me a more resilient, and more understanding person.
Resilience
Little did I know that there was a requirement to obtain a work permit to get a job in the U.S. The United States did not recognize my Chartered Accountancy certification, and I would need to pass the Certified Public Accountant (CPA) exam. The friends we met during this time were mostly engineers who had moved to the United States to pursue their master's in science during the dotcom era. I felt out of place and fearful that I may not see opportunities in finance.
That didn't stop me from trying.
I talked to people who would guide me in this path. I registered with the California Board of Accountancy. Fortunately, I had all the required credits to take the four-subject exam, and I started preparing directly. Thankfully, the language was not a problem, as English was our primary language of instruction in school and college in my hometown. Did I pass? More on that later.
Adaptability
In the meantime, adapting to my new country made my daily life very interesting. I was in for more surprises than I thought. Pronunciation and handling things were strange to me, coming from a foreign land.
Certain English words that I was used to hearing sounded very different to me, like representative, airplane, Wednesday, February, and schedule to name a few. The accent was even harder to understand, so I requested people to slow down when they talked to me. People pronounced the letter r with style by rolling the tongue, where I was used to saying r by touching my tongue to the roof of my mouth.
The biggest hurdle was the American date format. I was used to seeing DD/MM/YY in all transactions. I had to be very cautious about understanding that the month is the first number, followed by the date. This was especially important to me since I was handling accounting transactions. Mixing them up could have grave consequences! These days when I visit India on vacation, I misunderstand the date there, as I am now used to the American system.
Another big change was the United States system of measurements (miles vs kilometers, gallons vs litres, pounds vs. kilograms) and the differences in driving and light switches. These were all the opposite to what I was used to, so playing opposite was the name of the game!
Luck
As I was learning to adapt to these changes, a friend of ours was in need of an accountant to manage the finances of his software company. I was fortunate to have an employer who was willing to sponsor my work visa so I could earn money to fund my education. I successfully completed the CPA exam, and found a couple of employers who were willing to sponsor me because I now had a United States recognized certification and the experience. Yay! Five years into our work visa, my husband and I decided to initiate the process of immigrating to the United States through the green card process to pursue the American dream.
We wanted to continue our journey and also provide our children with the opportunities the United States had to offer. We were fortunate to land our green cards in a couple of years. This improved my prospects to work for larger corporations, where I could learn and contribute to many disciplines of finance and accountancy.
Family
In 2013, my mom was scheduled for a knee replacement surgery, and my husband and I were the only ones who could help. I quit my highly demanding job to take care of my parents back home. I would rejoin my two little daughters who were 11 and 5 once I returned from India. Later that year, I joined xMatters. I liked what I heard about the work culture and found the flexibility I needed between work and life. I was also excited to learn and contribute at a young and growing software company.
The United States had given us the opportunity to support our family for several years, and now we had to make a decision. Should we stay in the United States for the long term, or close shop and return to our hometown?
Gratitude
We were grateful for our new life and the bright future we envisioned for ourselves and our kids in the United States. We considered the prospect of inviting our parents to live with us. We decided to become U.S. citizens. I soon turned in my application for citizenship, and here I was studying hard again. This time it was a 10-question verbal exam given by an Immigration Officer on American history, geography, and civics. I must applaud our kids for patiently testing me to prepare for the big day. They reassured me that everything will turn out ok. There were times when I was embarrassed that I didn't know American history and civics as well as they did, and sometimes I still am!
I passed the citizenship oral test and took the oath with nearly 1,500 other immigrants at the Paramount Theatre in Oakland in September 2017. Becoming a citizen was such a memorable day. I felt like I was given a new life once I had taken the oath.
My xMatters family made me feel so special and proud with a surprise celebration after I returned to work the day after the oath ceremony. We celebrated with cake and champagne, the true American way. xMatters will always have a special place in my heart as the company has supported me through my journey and been with me during one of the most special moments of my life.
Working hard to pursue your passion and being determined to achieve your goals have been a common theme through this journey. With the freedom of being able to follow our family traditions, values, and religion in the United States and being able to visit our hometown regularly, it gives us the ability to show our children how to embrace the differences and yet be proud of our heritage. I am proud to be an Indian American!