BACK TO BLOG
New Year's Resolutions and Digital Transformation Trends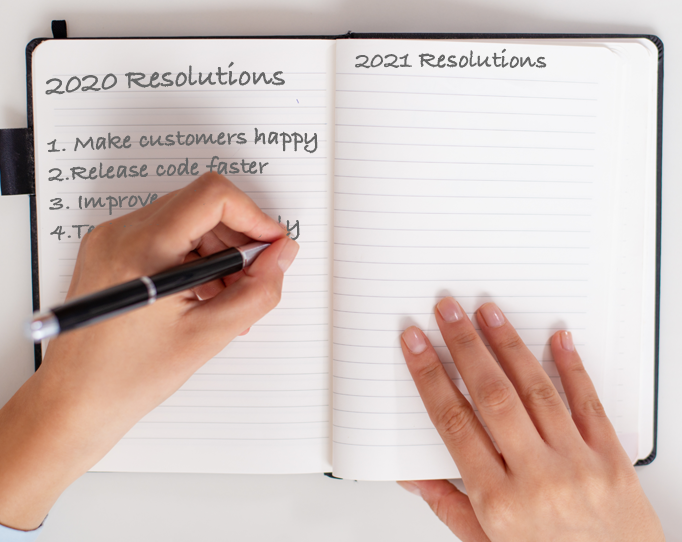 We surveyed more than 250 IT and DevOps professionals to learn about their New Year's resolutions and get their take on the past year's digital transformation trends. In this article, xMatters Product Marketing Manager Erin Jones breaks down the results and what they mean.
As we close out another year and begin the next, people are making New Year's resolutions – not just for themselves, but for their business. 2019 was undoubtedly the Year of Digital Transformation Trends, as companies invested in technology and processes to better support an optimal customer experience. This meant everything from more frequent releases to development efforts as top-line corporate objectives.
At xMatters, we underwent our own digital transformation as we migrated our services to Google Cloud, reinforced our security and trust standards, and worked closely with customers to help them deliver on great experiences for their own customers (including the launch of our no-code visual workflow builder, Flow Designer).
With the many initiatives that come with investing in digital transformation, we set out to learn how your 2019 went and hear about your top priorities for 2020. We surveyed more than 250 IT and DevOps professionals to learn about their New Year's Digital Transformation Resolutions and get their take on the past year's technology trends. Take a look at what they said – and let us know if you agree with where digital business is headed in 2020.
What does this mean for 2020 (and the new decade ahead)?
As we reported in our recent Incident Management in the Age of Customer-Centricity Report, 91.7% of companies are prioritizing customer experience. Three out of four IT and DevOps professionals are working more closely together while focusing on automation, AI, and machine learning so they can execute like a well-oiled machine. Cloud initiatives are a priority for 61.7% of organizations and will continue to grow as teams invest in autoscaling and microservices.
To make these changes, organizations will have to tackle hurdles – cultural shifts, integrating with disparate and/or legacy services, and process standardization – that have challenged companies in their digital transformation efforts.
Digital companies (pretty much everyone) have a big year ahead of them – and all eyes (both executives and customers) will be on how the most seamless and fastest innovations are delivered to take the lead in their respective market. If you're on one of these teams, this can be both thrilling and panic-inducing. That's why in 2020, we at xMatters are resolving to partner with you to make it happen. We've heard from survey respondents and customers alike, and we're committed to pushing our product to deliver on what you need to make history in 2020 (and beyond).
So, here's to a Happy New Year filled with innovation, risks worth taking, and digital investments that pay off in spades!
Ready to jumpstart your digital resolutions?
Get xMatters and make 2020 the year of delivering on record-breaking customer experience.
Try xMatters Free