BACK TO BLOG
Push Yourself to Find What Moves You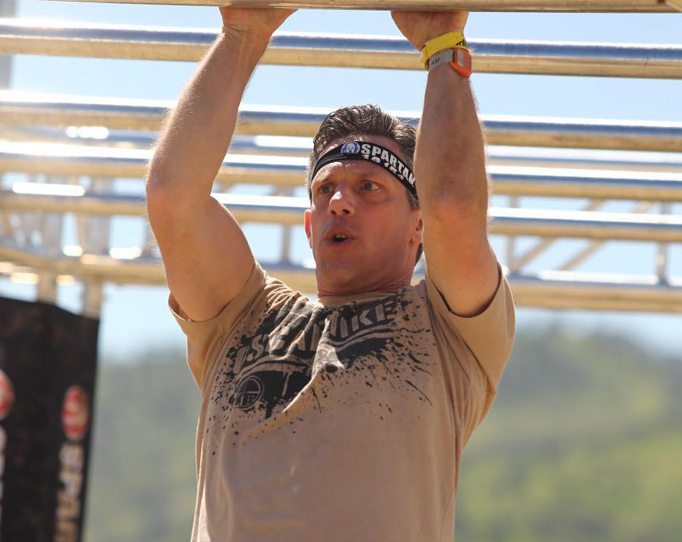 We all have goals that seem out of reach. Sometimes it's just a matter of commitment, but commitment requires purpose. Finding purpose can provide the motivation for you to push yourself in ways you never thought possible.
I did the Spartan beast race in Squaw Valley, Lake Tahoe in 2018. Unprepared for the climb to more than 8,100 feet, I struggled mightily.
I labored to breathe. My legs felt like anchors. I got light-headed. My friend Robbie told me later I was slurring my words. With his encouragement, I got through it and finished. I didn't even need my headlamp.
Honestly, I finished through sheer determination to not quit and through Robbie's patience and encouragement.
After the race, I walked like an octogenarian and could barely stay awake. I took almost three months off from exercise before getting back into it. I swore I would never run a beast again.
So naturally, in mid-2019, I signed up to do it again.
What was I thinking?
What would make me commit to doing something that made me so miserable just months before? For that matter, what makes anyone commit to things that cause them distress?
There were three factors for me. First, I wanted to correct the shortcomings in my preparation and in my approach to improve my performance. I was returning to the scene of the crime, essentially. Second, I wanted to execute better by completing more obstacles and finishing with a better time. Finally, I wanted to honor Robbie, who had passed away from an undiagnosed heart condition barely a month after we ran the race in 2018.
Hopefully, the things that motivated me to get back out there will motivate you to push yourself too.
Better preparation
My effort to be better prepared began where all important things start: YouTube and Facebook. I consulted other runners on my favorite Facebook group and invested in a new pair of trail shoes. No more running shoes for some pretty technical terrain. I watched videos and learned what I could be doing better on obstacles like Olympus and Multi-Rig.
I even bought an oxygen restriction mask to better prepare for the elevation, only to have the entire group tell me the mask doesn't work for elevation. Sigh.
My advice: Don't wait for the inspiration to hit you before you push yourself to try something difficult. Start doing it and figure it out. If it's a good match, the motivation will come.
Better execution
If you've done anything like an obstacle course race or a marathon, you know there are some people who are just super fit and there are others who are less fit but just gut it out. Sometimes the event is easy, and sometimes you really have to push yourself. In other words, it's 50% mental.
So on the initial climb, I tried to be much more cognizant of how I was feeling so I could keep myself in good condition and not feel the elevation sickness. When we got pulled off the mountain and into a shelter for over an hour because of lightning nearby, I kept my head. After tightening up from lack of movement, it would have been easy to just call it, but I didn't.
I rarely wear gloves at Spartan races, but I did use them for the rope climb and for the ropes at the end of the Multi-Rig. Monkey bars and Twister don't bother my hands because they're pretty calloused, but the ropes will rip them up if I'm not careful.
My advice: Once you're in it, commit. First, you'll enjoy it more. Second, you'll perform better. And third, if you're doing something dangerous, you'll be less likely to get hurt.
Honoring a friend
In 2018 I slowed Robbie down. A lot. I was 14 years older than he was, and he had been committed to fitness since long before I met him. He kicked my ass up and down that mountain. He also waited for me at the top of each ridge and gave me some valuable advice in my weakest moments.
He was one of the kindest people I knew. He was involved in the Boys and Girls Club of San Jose and with the San Jose Buddhist Judo Club. His propensity for giving had an impact on me. Now when I race, I also volunteer at the kids' race. I look for opportunities to give back by running with adaptive athletes when possible. It's just too bad he can't participate with me anymore.
My advice: Be thankful for good friends, good times, and good things. I got together with some other friends of Robbie's recently, and it was great to hear stories and a side of Robbie I didn't know.
What's Next
I used to consider a race as a personal adventure. I'd drag my family around so I could spend a day on the course. It was a little selfish. Racing with a group for a purpose greater than myself has bled into other areas of my life.
Now I try to think of things in greater context. I train at times that are more convenient for my family. I encourage my son to run with me. I volunteer at races and try to help adaptive athletes.
Famous last words, but I am done with Tahoe. I'm doing the Central California beast in December. After that I'll plot my future. I'd still like to complete a trifecta or two each year for a while.
I think we all feel stretched pretty thin these days. We're pushing ourselves to accomplish more and do more new things. At the same time, we're maintaining families, homes, health, and finances. We're innovating and releasing products at breakneck speeds and making sure our customers don't experience service degradations. How are you pushing yourself?
Get xMatters Free